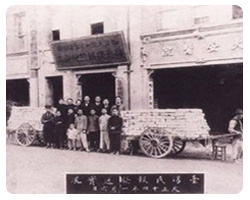 I Mei was established in the Taiping District of Taipei in 1934 at the site of Da An Hospital founded by Dr. Chiang Wei-shui (today's Number 31 Yanping North Road). At the time Taiwan was still suffering from economic hardships. I Mei's insistence on the highest quality in food production as well as its down-to-earth attitude helped it to become a famous company and achieve wide popularity among consumers.
Over the following 70 years I Mei expanded from one small cake shop to a chain of stores in all the major cities of Taiwan. During the 1930s I Mei introduced a series of famous products including pineapple cakes, green bean cakes, 'red turtle' moon cakes and Han cakes. Since then I Mei has continued to update its marketing strategies and successfully promoted its Red Bean Milk Ice Bar, Black-hyun series, Taiwan's Three Milks and other products that are highly popular throughout Taiwan, making it a leading brand in Taiwan's food industry.
Acting as a gatekeeper for consumer health, I Mei is highly concerned about everything from basic ingredients to package material testing, product manufacturing process control, and shipping of finished products. Products which deliver high quality have won I Mei recognition all over the world, and the company positions itself as a local enterprise that boasts full confidence and a truly global point of view.
At the beginning of a new decade, I Mei is dedicated to proceeding with great ambition and sincerity, intent on maintaining its brand reputation and combining local ways of thinking with a global outlook as the cornerstone of sustainable management within the enterprise.